Visionary software partners
Binokula was created by Stellar Consulting Group, an award-winning Microsoft Gold Data Analytics Partner. We are here to help businesses succeed by empowering their affiliate networks with greater knowledge and insight.
As big fans of Power BI, our initial version of Binokula was "Binokula for Power BI" to add important functionality that allows companies to securely share Power BI reports beyond their firewalls with ease.  The future for Binokula is to allow the publishing of reports created by other popular reporting toolsets.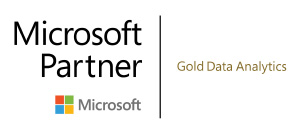 Microsoft New Zealand Partner
Stellar partners with Microsoft to deliver and support world-class Data Analytics solutions. With 90,000 employees in over 190 countries supporting and developing varied products and services, Microsoft's mission is to empower every person and every organisation on the planet to achieve more. Eighty per cent of Fortune 500 companies are on the Microsoft Cloud.
Stellar Consulting Group is a leading New Zealand Microsoft Data Analytics partner. We are experts in Microsoft Power BI and Microsoft's Azure cloud computing platform covering the Azure Data Platform, Azure Analytics Platform, Azure AI + Machine Learning. We are also experts in Microsoft's SQL Server and Business Intelligence Suite.
Stellar Consulting Group is a Microsoft Data Analytics Gold partner and a Microsoft Data Platform Silver partner. Stellar Consulting Group has been a Microsoft New Zealand Partner Awards finalist nine times, winning in 2015 and 2017.

Microsoft New Zealand Partner Awards – Technology for Good (Stand Children's Services)

Microsoft New Zealand Partner Awards – Data Analytics (Eastpack)

Microsoft New Zealand Partner Awards – Data Analytics

Microsoft New Zealand Partner Awards – Business Intelligence Partner of the Year
Your insights enabled by leading analytics provider
Stellar Consulting Group